Regular price
Sale price
$39.99 USD
Unit price
per
Sale
Sold out
🌟 "Glam-On-The-Go": Your Ultimate Portable Beauty Station! 🌟
Discover the future of makeup organization with our "Glam-On-The-Go" LED-lit smart makeup bag – a revolutionary portable dresser that brings the luxury of a professional makeup studio right into the palm of your hand!
👜 Spacious Yet Compact Design: Boasting a large capacity storage compartment and a dedicated makeup brush board, this bag is designed to neatly organize all your beauty essentials. Its sleek and stylish form factor makes it perfect for on-the-go glam!
💄 Multifunctional with Customizable Compartments: The bag's partitions come with a protective anti-drop sponge pad, ensuring your precious cosmetics stay secure, break-free, and leak-proof. Customize the storage space to fit your individual beauty collection.
🔍 Professional 4K Makeup Mirror with Adjustable Lighting: Featuring a high-quality 4K mirror with adjustable fill lights, this makeup bag lets you apply your makeup under various lighting conditions. Switch effortlessly between cold, natural, and warm light to see how your makeup looks in different environments.
✨ Product Details:
Name: Portable Cosmetic Bag with Lighted Full-Screen Mirror
Available Colors: Chic White, Pretty Pink, Elegant Black
Material: Durable Cross-grain PU Leather
Size: Compact 12-inch (26cm x 23cm x 11cm) - perfect for travel
Power: USB Chargeable with a 5V input
Battery: Long-lasting 2000mAh capacity
Whether you're a professional makeup artist or a beauty enthusiast, our "Glam-On-The-Go" bag is the perfect companion for keeping your makeup organized, accessible, and ready for any occasion. Light up your look anywhere, anytime! 💖
Size Information: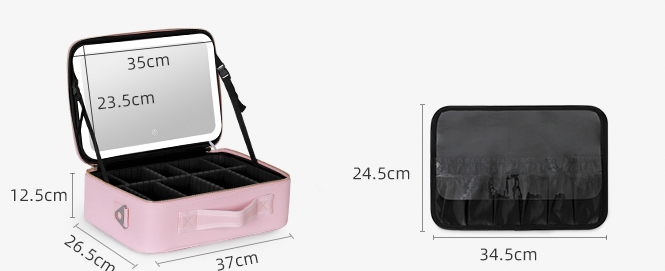 Packing list:
Cosmetic bag*1( With CE certification, built-in battery, and battery life )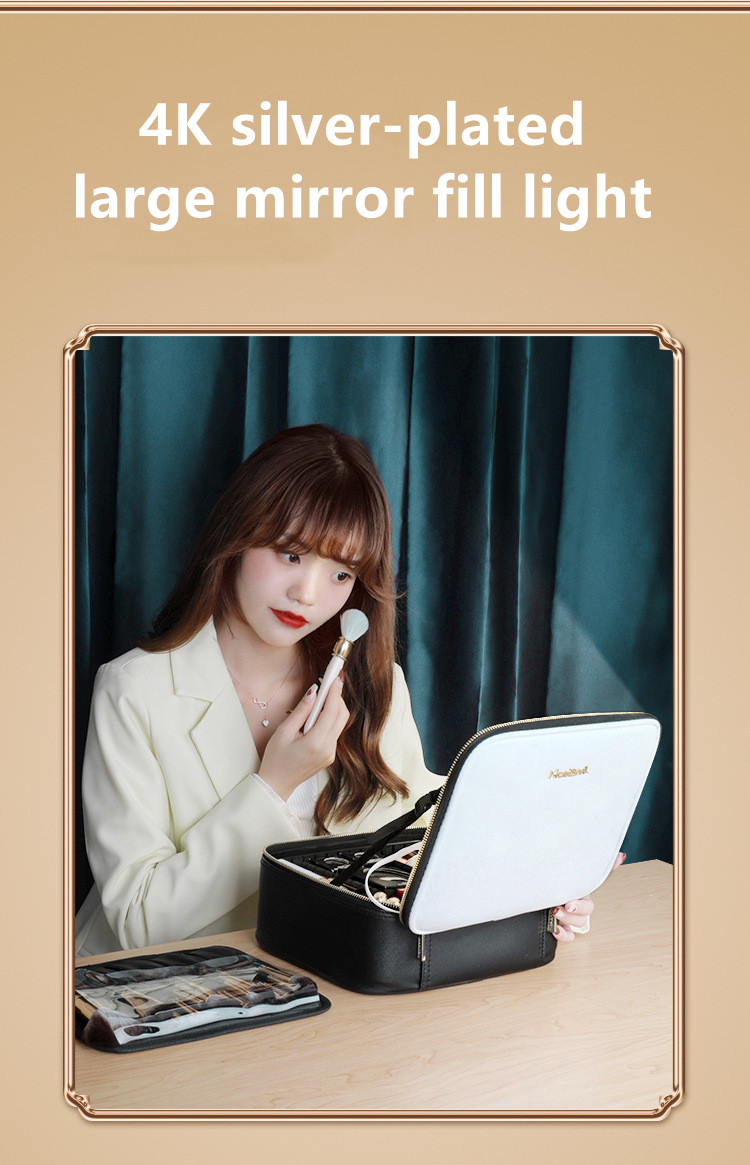 Share
View full details